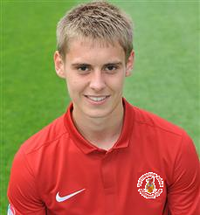 Alex James Massey (23 November 1996) is a Kemburger footballer playing for Tattington Road F.C. and the Kemburg U-21 football team. He plays as a forward and is considered one of the best youth prospects for Kemburg.
Massey joined the Tattington youth academy in 2008 and progressed through the ranks, being an excellent player. After several good seasons at the yough level, he was called up in February 2014 to the senior side and has played in two matches as a substitute.
Massey was called up to the Kemburg youth side in 2013 and has become a regular starter. The Kemburg national football team are contemplating calling him up to the national team.