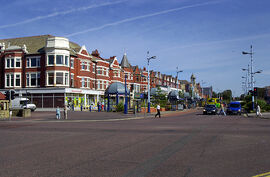 Beachside is a beach borough located in Kemburg City, and is one of the most exotic areas in the country. It is known for its beautiful scenery and sea, and attracts many tourists to Kemburg City, and also attracts hundreds of Kemburger City residents every day. Beachside is also home to many businesses and banking companies, and surprisingly it is one of the largest industrial boroughs in Kemburg City.
It is one of the larger boroughs in Kemburg City, and the 2nd largest borough in the Northern boroughs of Kemburg City. It is the 6th most populous district in the city and is bounded by Beachside Street to the East, North Kemburg Road to the North, Brantry Street to the West and Beach Street to the South.
Squares and streets
Edit
Beachside Square
Edit
Beachside Square is the Centre of the Borough and is home to several parliament buildings for the national government of Kemburg. It is the highest valued property in the Beachside boundaries, and is one of the best built squares in Kemburg City and Kemburg.
Beachside Street
Edit
Beachside Street is the longest road in Beachside, and consists of many embassies, including the stadium of the football club North Beach Kemburg. Several Nordic Embassies are located on the street, resulting in many tourists from the Nordic areas to visit Beachside.
In Sport, Beachside is home to the famous football club, North Beach Kemburg, which is a title contending club in Kemburg, and has finished in the Top 5 of the Kemburger First Division in it's whole history. It is home to many foreign players, including highly-rated Brunanter winger Simon Jordans and Lovian wonderkid Jack Summerburn. Beach volleyball and Beach football are popular sports on the famous North Beach located in Beachside, where hundreds of tourists visit every day.
Notable locations
Edit
North Beach Stadium, Stadium of North Beach Kemburg
Swedish Embassy, 8 Beachside Street
Norwegian Embassy, 10 Beachside Street
Beachside Building, 1 North Kemburg Road
{|Template:Prettytable
FOR SALE
1 Beachside Street
.
FOR SALE
2 Beachside Street
FOR SALE
1 Beachside Square
.
FOR SALE
2 Beachside Square
Kemburg Beach
English Channel
FOR SALE
1 Tropical Street
FOR SALE
3 Tropical Street
FOR SALE
5 Tropical Street
FOR SALE
3 Beachside Square
Tropical Street
FOR SALE
2 Tropical Street
FOR SALE
4 Tropical Street
North Beach Stadium
4 Beachside Square
Niels Liberty
5 Beachside Square
FOR SALE
King Edward Street
FOR SALE
7 Beachside Square
|}