Clinton Motorcars plc is a Kemburg luxury car manufacturer based in Tenley. Clinton was founded in 1948 as the Clinton Motor Car Company Ltd.
Clinton was founded in 1948 by Sir George Clinton, a Kemburger motoring enthusiast. The Clinton Motor Car Company produced cars from 1948 to 1975, when Sir George went bankrupt and was forced to sell the company to a nephew, Peter Bolton. Under Bolton, the company did not resume production until 1978 with the Clinton Imperial, a facelifted and more luxurious version of the latest Five-Hundred Model. This car was produced until 1980. Only 23 were sold, each costing 48,000 pounds new. Clinton folded in 1981.
The Clinton name and factory was bought by Northern Irish businessman Harry Donnell, who founded Clinton Motorcars plc in 2007, producing a four-door Clinton saloon car from 2010.
Five-Hundred
Edit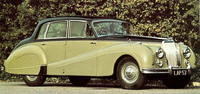 The Five-Hundred was the first Clinton model, introduced in August 1948 from a prototype from 1947. The Series One model had the same design and was produced until 1955, with the original V-6 Clinton engine. A limousine version was produced in 1953 and 1954 with a body by Nicollet of Brunant.
A Series Two Five-Hundred was introduced in 1956 and produced until 1969. This car was now made with a Chrysler V8 engine producing 210 horsepower.
Six-Hundred
Edit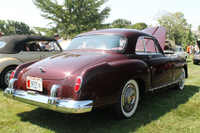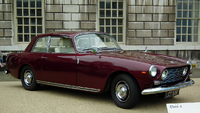 The Six-Hundred was Clinton's first sporting model, first sold in 1952. The car was not a sports car, though it was two doors, still highly comfortable and featured a more powerful Chrysler-sourced V8, tweaked to produce 218 horsepower. The car still handled badly due to its size and acceleration to 60 mph took nearly 12 seconds, but it could reach a reputed top speed of 130 mph.
A Series Two Six-Hundred was introduced in 1963 and was produced until 1972. This car had improved handling, though it still drove like the large car it was. Style-wise it was the most modern-looking Clinton. A stretch-conversion model by John Peale Works was produced from 1967 to 1970, with 11 sold.