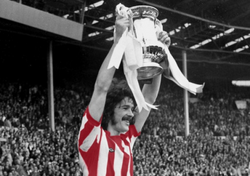 James Tennant (born 1944) is a Kemburg former footballer, having played most notably for Tattington Road F.C. and the Kemburg national football team as a midfielder.
Biography
Edit
Playing career
Edit
Tennant was born in Tattington, Kemburg City to a Kemburger father and an English mother. Tennant started playing at local side Tattington Road's youth team in the early 1960s. Tennant then moved to Kemburg City F.C. in 1965 and played in the side that won the league in 1966. Despite this Tennant was unhappy at his club and was able to demand a transfer back to TRFC, moving for a record £98,000.
Tennant would become the team's central midfielder and as captain one of the figures of the golden age in the late 1960s and 1970s. Tennant would captain his team to the title in 1969-70, 1970-71 and again in 1972-73. After this Tennant would lead the team to a second-place finish in 1974, but with new young players coming in he was given a diminishing role until transfering to Millwall F.C. in 1975, playing there until 1980.
Coaching career
Edit
Tennant was a longtime coach at second division side Wolsey United from 1985 to 2003, and also led Brunanter team Standard Cape Cross from 2006 to 2011. He is currently retired from managing.