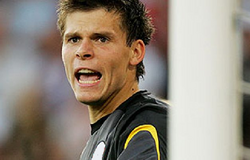 Jens Krag (born 1984) is a Straslander football goalkeeper playing for Tattington Road F.C. and Strasland national team.
Krag was born in Finskeby, Strasland and started out his career at local side FC Kapelbakke from 2000 to 2003. He then move to Insel giants Björnby SK from 2003 to 2007. As starting goalkeeper, Krag won the Insel league in 2006-07 with his club.
In 2007 he made an approximately €2,4 million move to Tattington Road, where he has been hailed as the next nordic goalkeeping giant. At one of the best clubs in his country and a great side in WNFA football, Krag was able to become one of the best league keepers, winning the KFA's Best Goalkeeper Award in 2009, 2011 and 2013 (with Luke Pellett his main rival). He helped his team to the First Division title in 2009 and 2012. He was also involved in the team's successful 2009-10 KFA Cup season, including stopping three straight penalties by Peterham United to win the shootout and advance to the final, which TRFC won 2-1 over North Beach Kemburg.
Krag was first called up to the Strasland national team in 2005 though he had to contend with established Jesper Larsen for the number 1 spot. In 2008 he replaced Larsen as the starting goalkeeper for WFC 2008 and has since been a regular for his country.