Luke Pellett

Personal information
Full name
Lucas Henry Pellett
Born
11 December 1980
Height
192 meters
Club information
Current club
Kemburg City F.C.
Position
Goalkeeper
Club history
Tattington Road F.C.
1997-2004
FC Donderar
2004-2011
Kemburg City F.C.
2011-date
National team
Youth squad: 1997-2001
Senior squad: 2002-date
Luke Pellett (born 1980) is a Kemburg football goalkeeper. He plays for Kemburg City F.C. and captains the Kemburg national football team as their number one goalkeeper.
Personal life
Edit
Pellett has a sister, Grace, who's married to Prince Andrew, brother of King Edward I. Pellee married in 2014.
Early years and Brunant
Edit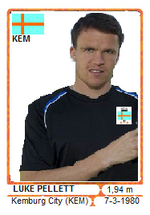 Pellett started his youth career at Tattington Road in 1997. He received his first senior start in 2002. He helped Tattington Road to the First Division title in 2002-03. In 2004 Pellett transfered to Brunanter side FC Donderar. In the 2005-06 season, Pellett helped his team to the league title in Brunant, and was considered the best keeper that season. His goalkeeping skill helped the team to a second-place finish in 2009, but newcomer Chilean keeper David Perez was awarded some starts which placed Pellett at odds with the manager. 
Return to Kemburg
Edit
In 2011-12, he had to contend with Chilean David Perez for a spot, and in 2011 he transfered to Kemburg City in his hometown after it was likely he would not be first choice for 2011-12. At KCFC, Pellett has continued his good form and has honed his reputation for his good penalty saves.
International career
Edit
Pellett was called up to Kemburg squads from the U17 level and became the starting keeper for the Kemburg U-21 football team from 1999 to 2001. His first senior start was at WFC 2002, in a 2-1 win over the Cayman Islands.
In 2004 he became a regular goalkeeper, in a difficult qualifying season for WFC 2004, which they could not achieve. After impressive matches in 2004-05, Pellett was made starting keeper and named captain for WFC 2006. Pellett performed excellently at the tournament, including stopping a Southern Arc penalty in the semifinals as Kemburg won the tournament. He was voted onto the team of the tournament. Despite his skill, Pellett had bad luck with Libertas, both in friendlies and in WFC 2010, where he let in two goals in a span of five minutes for a 2-0 quarter-final loss.
He will serve as keeper in Kemburg's WFC 2014 qualifying campaign and for the finals if they qualify.
Achievements
Edit