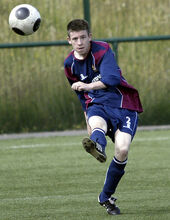 Martin Visser
(born 26 October 1986) is a Brunanter-born footballer with a Spanish mother and Dutch father, who plays as a Defender (LB/CB) for First Division team
Battery FC
.
Early career
Edit
Martin Visser started playing football at the age of 8, when he was spotted by the Taurus Niesburg academy. He played for Taurus for the next 8 years as one of the hottest prospects for the team, before being scouted and then signed up by large 1. Liga team, FC Donderar for a cheap price of just €180 thousand.
FC Donderar
Edit
Visser stayed at FC Donderar for 4 years, and played first team football in his last 2 years for the club. He played mainly for the club in his last season for the club, where he won the Man of the Match award four times for his outstanding defending performances. After these performances, Kemburger giant North Beach Kemburg made a bid for Martin Visser of €2 million, which was rejected, but a bid of €2.5 million was accepted and he moved to North Beach Kemburg.
North Beach Kemburg
Edit
After a €2.5 million offer was accepted, Martin Visser joined Kemburger giant North Beach Kemburg on a 5-year deal with a wage of €25,000 per week. This surprised most football critics as Visser was still very young at the time of the move, and with a bad first season for NBK, he was almost sold back to Brunanter club FC Donderar. A second season showed very different performances from Visser, with him being a star player at the team, and winning a massive 7 Man of the Match awards, the fifth highest in Kemburger history. Many seasons where Visser impressed came after, and he became the Captain of NBK, which he still is today. He signed yet another 5-year contract a season before his contract ran out, which included a wage of €40,000 per week, and a Relegation Release Clause of €8 million. He still plays for North Beach Kemburg today, and is one of the key players for the club.
National team
Edit
Visser has played in a couple of games for the Brunant national team, though as a substitute.
Style of play
Edit
Visser is a pacey defender, and that is why he normally plays as a Wing Back for his club, North Beach. With his crunching tackles, he also plays as a Center Back occasionally, however he mainly plays as a Center Back for the Brunant national football team, which he rotates with Adam Tonkzopo of FC Willemstad. He never performs Standing Tackles, and always is focused on challenging his opponent with slide tackles.