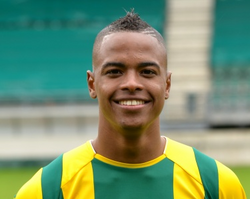 Ricardo Schepers (born 19 May 1989) is a Libertan professional association footballer who formerly played for Tattington Road F.C. Usually playing as a centre back or defensive midfielder, Schepers was one of the most solid defensive players in the First Division in the 2010s.
FC Muntegu
Edit
Schepers was born in Muntegu, Libertas to a Surinamese father and a Libertan mother. Schepers played for local side FC Muntegu in his youth and was in the senior team in 2009. As one of the key players in the team, Schepers helped Muntegu to win the Libertan League in 2010-11.
Tattington Road
Edit
In the summer of 2011, a €4.2 million move saw him to go Tattington Road in Kemburg, in a five-year deal worth €1.5 million per year. In his first season, he won the Kemburger league with his club as well as the domestic KFA Cup. He won the cup again in 2014 and the national championship again in 2018. He was named Best Player in 2018.
AS Cettatie
Edit
He moved to AS Cettatie in July 2018.
National team
Edit
Schepers made his debut for the national team in 2011.
Personal life
Edit
Schepers has been in a long-term relationship with Libertan fashion model Stefanie Mertens, and the couple have a son, Ronny (2014). He married in 2016. They had another son, Lucas, in 2018.